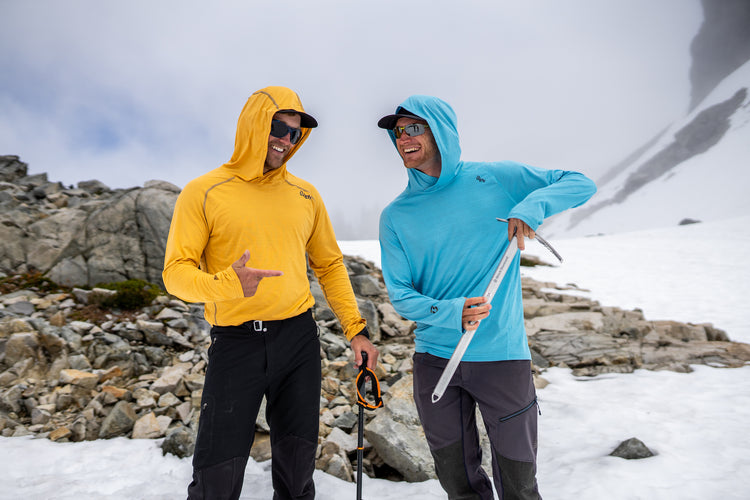 Ice Axes and Crampons

Gear Guide
Rainier, Denali, the Mexican and Ecuadorian volcanoes and many of the worlds biggest mountains are covered in snow and ice. You need sharp, pointy things (i.e. crampons and ice axes) to climb these mountains safely. In this Mountain Logic segment we take a look at the three primary types of snow and ice travel; hiking, mountaineering, and technical climbing, and make specific recommendations for matching the correct crampons and ice axe to your climb.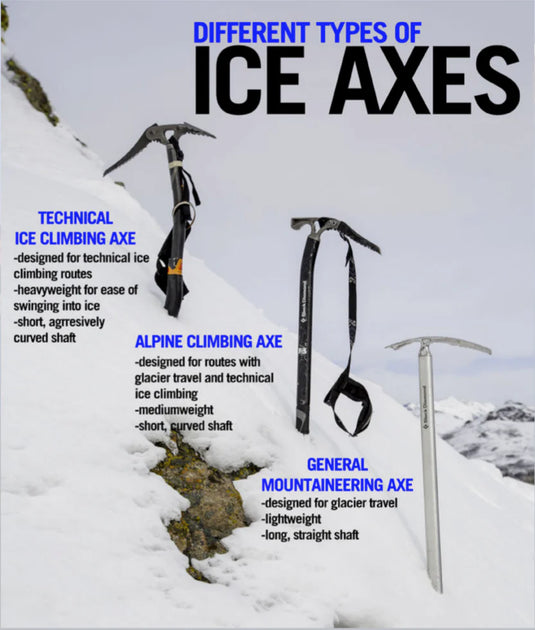 Ice Axes
The right ice axe for your climb is selected based on intended use, weight, and length.
General mountaineering axes are lightweight with a long shaft.
Tools for more technical climbing are designed with shorter, bent shafts and more aggressive picks.
Technical axes are designed for swinging overhead, where general mountaineering axes are designed for glacier travel and primarily used in the cane position. 
For general mountaineering, climbers who are 5'8" or less should select an axe between 50cm-65cm. For those who are between 5'8" and 6'2" a 65cm-70cm axe is a good choice. Anyone over 6'2" will want to consider an axe in the 70cm-75cm range. Proper length can be further determined by holding the axe by its head with your shoulders square. The spike of the axe should come to the ankle bone or a bit above. An ice axe for general mountaineering should not be so long that it is used as a trekking pole. If you are between sizes, go for the shorter option.  
General Mountaineering Axe
For general mountaineering, an axe with a straight or slightly curved shaft is ideal. Although you may be drawn to aluminum because of its lighter weight, the axe should at least have a steel head.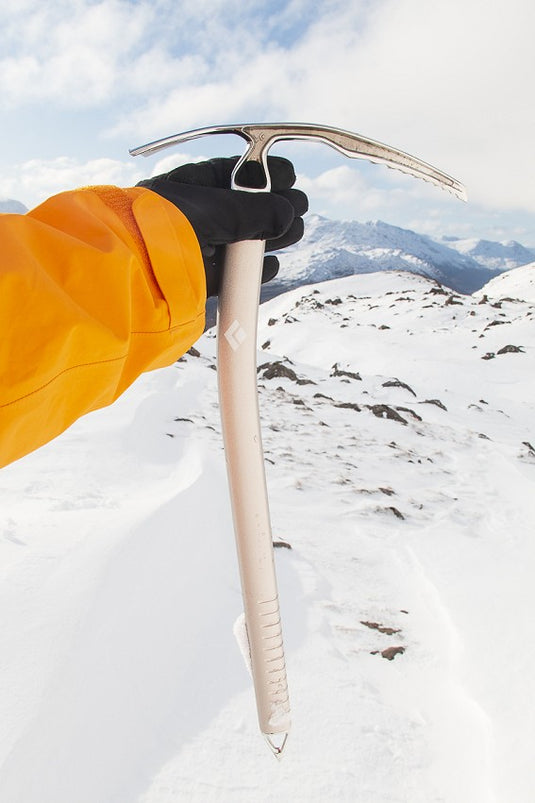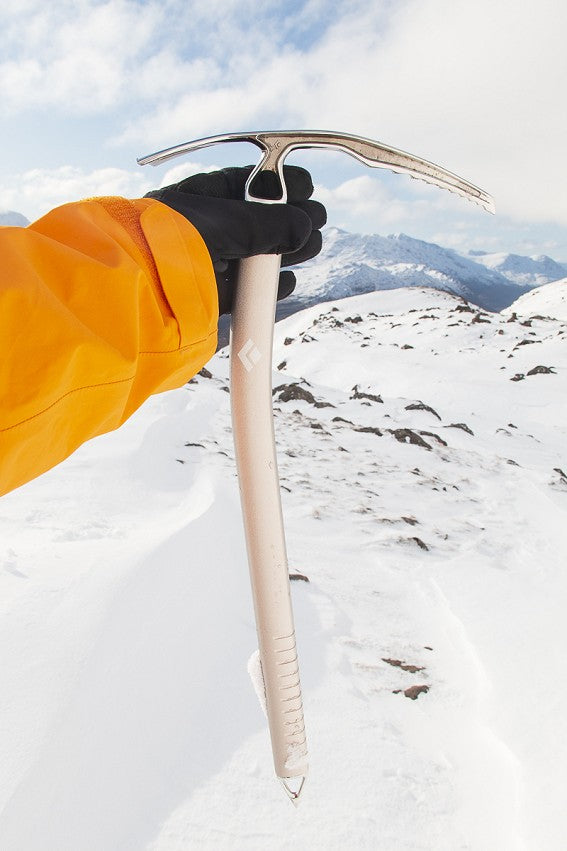 Without a doubt, the Raven Pro Ice Axe is the best ax for climbing Rainier's standard routes. Period. Lightweight, durable, and long enough to provide ample support, the Raven Pro has been in our rental program for decades. Now lighter and featuring a slightly angled and ergonomically improved trapezoidal shaft for better grip and more aggressive climbing. The updated pick, adze, and spike geometry allow for more secure placements, whether you're kicking steps up Aconcagua or winding through crevasse fields in the Alps, while the investment-cast, polished stainless-steel head provides dependable durability.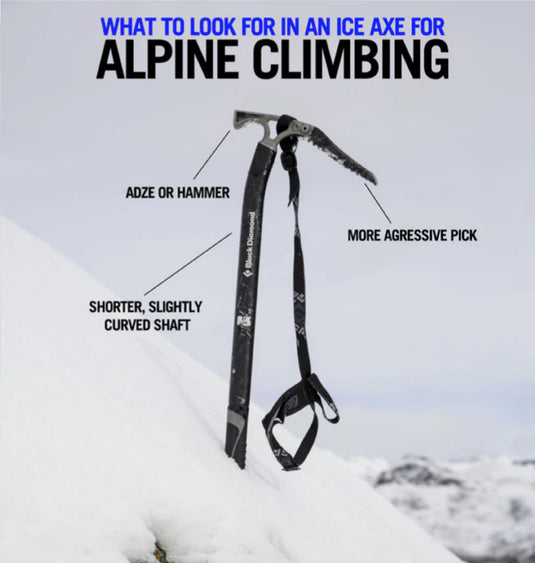 Alpine Climbing Axe
Mixed climbing axes have a shorter shaft with a more aggressive bend. They are intended for use on routes with both glacier travel and technical ice climbing. Alpine climbing axes also usually have a choice between an adze or a hammer.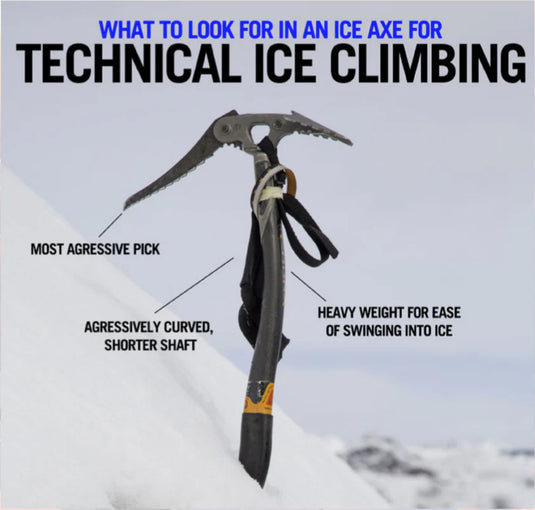 Technical Climbing Axe
Ice axes for technical routes will have aggressive bends and be heavier than a general mountaineering axe, for better ease of swinging into ice. The shaft on these axes will be shorter and typically come only in one length. These axes will also usually come with leashes, however these are not recommended for general mountaineering.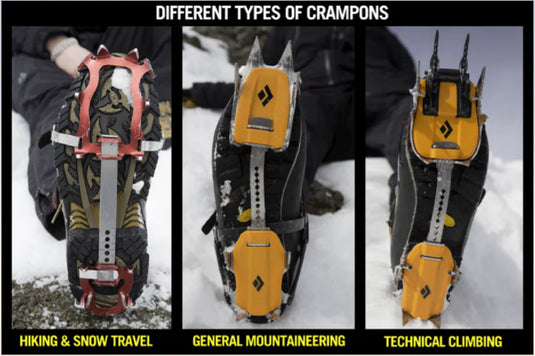 The Logic Behind Crampons
Crampons vary based on material (steel, stainless steel, or aluminum), number of points, and the binding system. Selecting the right crampon depends on your intended use: hiking and snow travel, general mountaineering, or technical climbing. 
General Mountaineering Crampons
On the standard routes of Rainier, Denali, Aconcagua, and Everest, you will need a steel or stainless steel crampon. Although aluminum crampons are attractive because of their lighter weight, they lack durability and do not handle rock and ice well. Select a crampon with 10-12 points for these types of climbs. A 12-point crampon will have an additional set of points added to the toe piece, improving performance when front-pointing but still allowing the user to walk easily on lower angle terrain. These crampons will have a strap-on or hybrid (clip) binding system.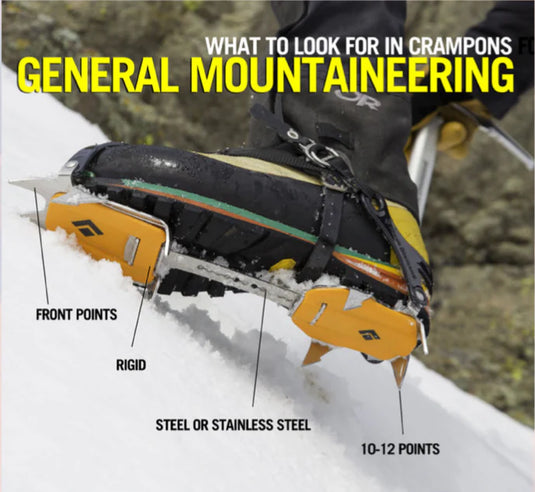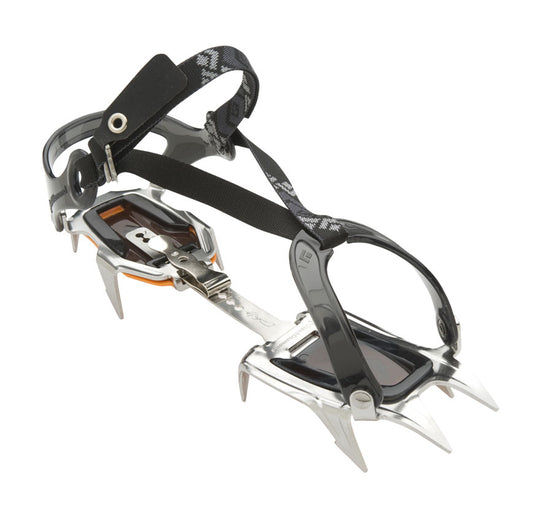 Ideal Crampon for Mountaineers For general mountaineering, we prefer 10 point over 12 point crampons, and when it comes to 10 pointers, Black Diamond's Contact Strap is hard to beat. We've been using these in our rental program for decades, and work well with ski and overboots as well as general mountaineering boots. Designed for ice and snow travel, the lightweight Black Diamond Contact crampon is ideal for mountaineers, skiers and hikers. Its stainless steel construction won't rust and avoids environmentally toxic coatings that wear off in the mountains. The compact, 10-point design offers easy walking, while the fast-adjust attachment system accommodates almost any footwear. ABS plates included.
In general, crampons can be adjusted to match your boot size by using a bar system. Climbers with bigger feet (size 11 boots or larger) should go with 12-point crampons. The 12-point crampon has a longer toe-piece, therefore allowing for more distribution of points of contact throughout the sole of the boot. You will also need the longer extender bars, which are available for most crampons.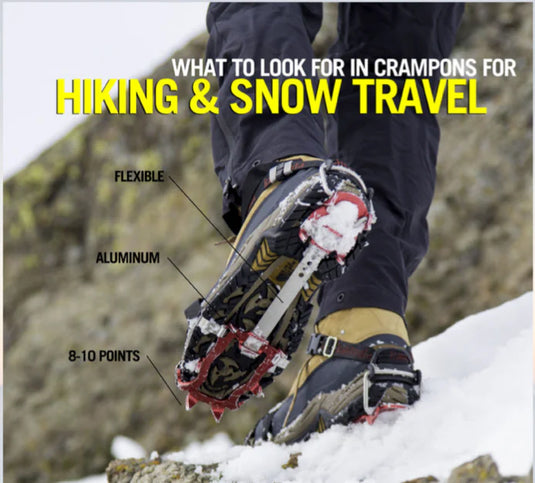 Hiking Crampons
A lightweight aluminum, flexible 8-10 point crampon. Aluminum works well for snow-climbing and low angle snowfield travel or ski mountaineering. Most of these crampons will have a strap-on binding system. 

Recently, Microspikes have become increasingly popular as a replacement for hiking crampons. Instead of using straps and aluminum, these tend to use an elastic rubber binding system and chain-like points instead of actual spikes. They also tend to have more spikes than regular crampons, anywhere from 12-18.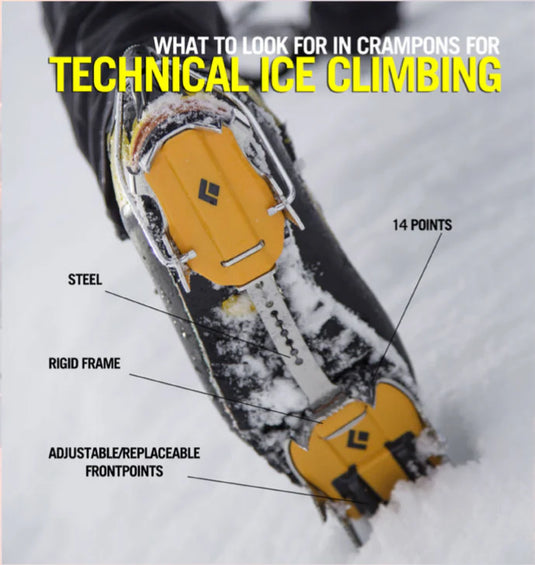 Technical Crampons
In the realm of steep, vertical climbing, a 14-point steel crampon function bests. These crampons have a rigid frame to support front pointing and climbing waterfall ice. They often have adjustable and replaceable front points that can be arranged into different configurations depending on the conditions (ice climbing vs. mixed climbing). These are not the optimal choice for general mountaineering as they are heavier and their aggressive points make it more difficult to walk on lower angle terrain. These crampons will have a hybrid (clip) or full step-in binding system.