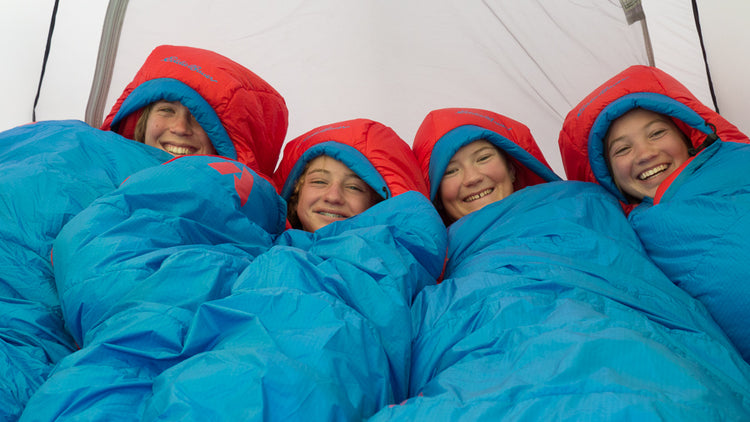 Sleeping Bags & Pads

Gear Guide
When it comes to sleeping at altitude, you'll find there's a little bit more to it than just counting sheep. The rating of your sleeping bag, what it's filled with, the type of pad you use, and even your pre-bed routine all play a part in making sure you're well-rested for your climb. There's a ton of info in this post, so we've grouped it under a few sections below. Just click the tab to get the information you're interested in!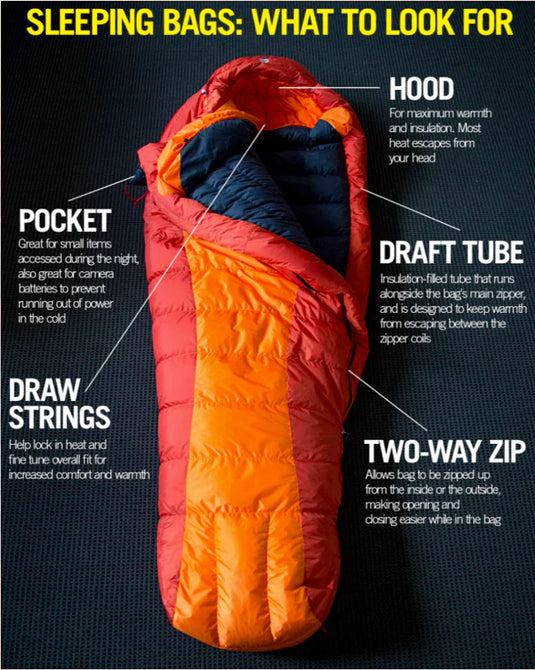 Logic Behind Sleeping Bags
A sleeping bag should do two things: keep you warm, and keep you dry. A sleeping bag's job is to help you sleep comfortably and protect your body from the elements. When choosing a sleeping bag, be sure to consider elevation, temperature, climate and terrain, as well as your sleeping preferences.
The two primary considerations when choosing a bag are insulation type and temperature rating. Let's start with the two main insulation types: synthetic and down.
Insulation
Synthetic Insulation consists of very fine, tightly woven fibers that form small air pockets to trap body heat. They dry quickly and stay warm when wet. Synthetic insulation is best in a wide range of conditions, as synthetic fibers will not absorb moisture.

Down Insulation is a natural insulation and the most packable of the insulation types. Goose or duck down plumes provide warmth by trapping body heat within the space between down clusters that insulate the garment. Down is best in cold climates and where less weight is optimal, as the warmth-to-weight ratio is the highest. Note: There are new treatments that some manufacturers use that prevent the down clusters from collapsing when wet, therefore helping them maintain warmth even in the presence of moisture.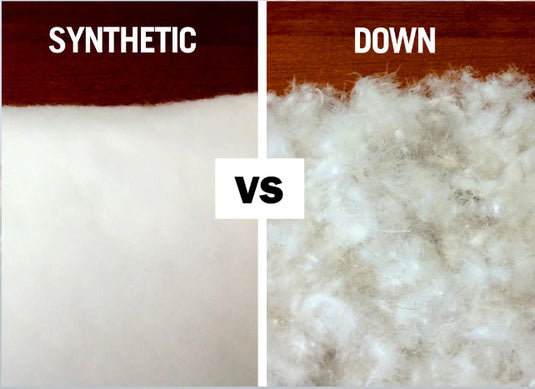 Temperatue Rating
Sleeping cold leads to not much sleep at all. When choosing your sleeping bag, match the temperature rating of the bag to anticipated temperatures of the location you'll be in. Keep in mind not all rating systems are the same between manufacturers.

Consider the following when choosing a bag:
1. What are the lowest anticipated temperatures?
2. Sleeping surface? Snow? Rock? Scree?
3. What is your sleeping style- Do you sleep cold or hot?
4. Wet climate or dry?
"Prepare for the worst, hope for the best. That's my philosophy. I always go with a bag that's 5-10 degrees colder than the anticipated low temperatures. For me, the extra ounces are worth it for a little more warmth and a good night's sleep. "
 - Peter Whittaker
Shop the best
Sleeping Bags
Sleeping Bag
Care & Maintinence
Proper care and maintenance are key to getting the most life out of your bag, and in helping to sustain its temperature rating.
Washing
Use a specialized soap, specific to insulation type. 
Don't use a washer with an agitator (use a front loader instead)
Hang-dry or throw into a large-capacity dryer (with a few tennis balls)
Storage
Be sure the bag is 100% dry before storing
Do not leave bag in a stuff sack for extended periods
Hanging sleeping bags is best
Guide to Sleeping Pads
Sleeping pads are especially important when you're cold camping - they get you off the ground and away from that cold, damp tent floor. The level of insulation a sleeping pad provides is called its R-value. R-values signify how well a material resists heat conduction, so the higher the R-value, the better the resistance, and the less heat gets transferred from your warm body to the cold ground. Sleeping pad values usually range from 1-7, and for cold camping, we recommend you find one with an R-value of at least 5.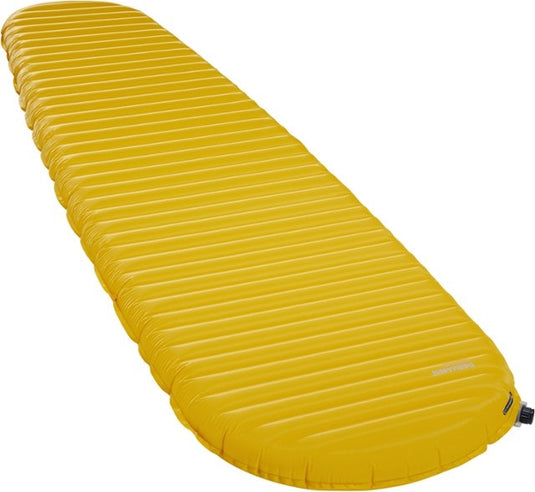 Inflatable Pads
Self inflating pads have an open-cell foam interior but also require air.

Advantages: comfortable, excellent packability, warm, and allow you to modify firmness.

Disadvantages: not as lightweight as the foam pads and will cost you a bit more. Care must also be taken as these pads can rip or puncture (be sure to keep a repair kit on hand).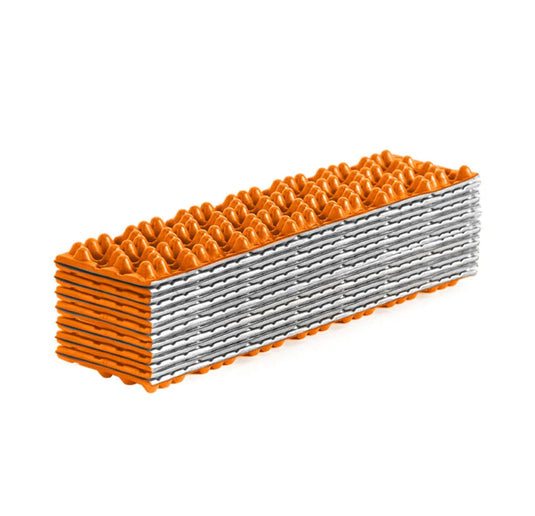 Foam Pads
Foam Pads are fairly straightforward. They're made up of dense, closed-cell foam.

Advantages: Lightweight and durable. Less expensive than self-inflating pad. They won't absorb water and offer decent warmth.

Disadvantages: Not as comfortable, warm, or packable as self-inflating pads.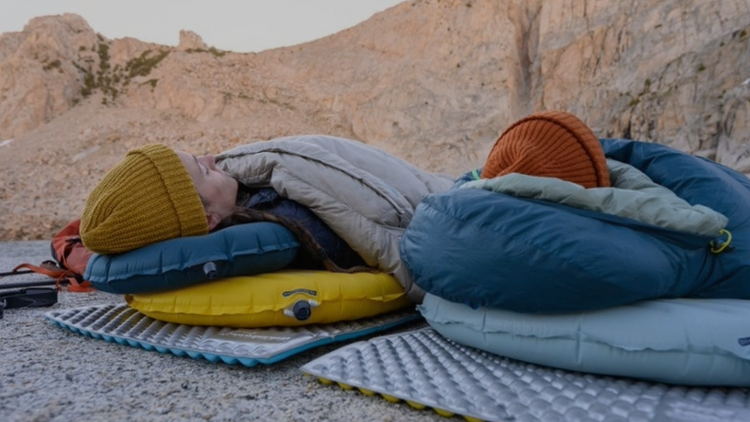 If you're planning on sleeping in cold temps, consider going with a two-pad system - a super packable blow-up pad and a closed cell foam cell. When you use two pads together, their R-values effectively add up, and it's hard to get much more insulated than that! We recommend the Therm-a-Rest NeoAir XLite for a blowup pad and the Exped FlexMat as a closed-cell pad. Plus, your closed cell pad can be used to sit or stand on when you're outside your tent, insulating you from the snow!
Shop the best
Sleeping Pads & Accessories
Guide to Sleeping Warm
Here are tips from some of RMI Expeditions top guides on how to stay warm while sleeping up high!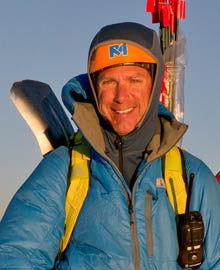 Peter Whittaker
"I like to do two sets of 15-20 jumping jacks before I climb into my bag for the night. 2-3 minutes of good cardio will get you warmed and ready to start the night off comfortable."

Seth Waterfall
"If your feet are cold when you get into the sleeping bag it will be very hard to warm them. Spend a few minutes warming your feet by swinging your legs or even rubbing your toes before crawlin' in for the night."

Solveig Waterfall
"Once I'm all tucked in and zipped up, I do a series of core exercises to get the blood moving and start the night off toasty!"

JJ Justman
"I tend to do a round of sit-ups to warm up before I get into my sleeping bag. Plus, it gets my body ready for the beach!"