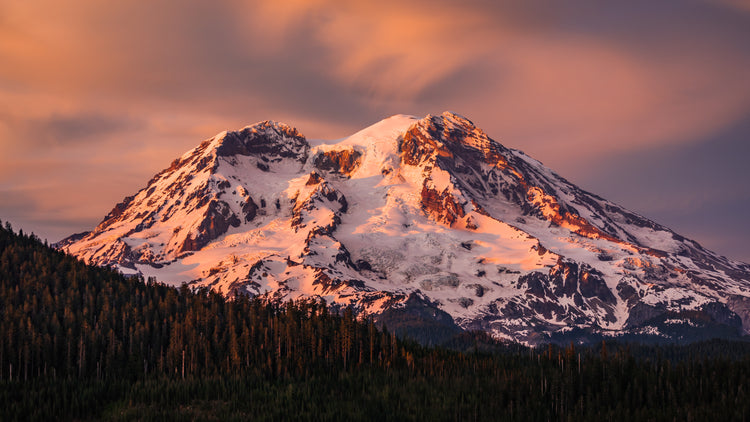 Apparel for Rainier

Gear Guide
Welcome to Rainier!
Climbers know that efficiency is key to enjoying adventures in the mountains. This is true both for movement and for equipment. In addition to all of the training you are doing, part of the preparation for your climb is making sure that you have the proper gear. The right equipment choices provide an added degree of comfort and safety, allowing you to focus on the climb and enjoy the experience.

We know you have many choices when it comes to outdoor products. And because we also know that navigating all the options can be overwhelming, we created this Gear Guide to help simplify the outfitting process. In this post we share our philosophy, tips and advice, and specific functions and features of each equipment item listed for a summit attempt on Rainier. We also identify the products that we believe are the "best in class" and ideal for climbing Rainier.

Our guide was written with input from the RMI guide team, who have been guiding climbers on Mt. Rainier since 1969. As outfitters of RMI for the last few decades, we have a pretty good idea about what works and what doesn't up on the mountain. All of our gear suggestions can be bought or rented from our store, in person or online.
How This Works:
We've divided our guide into two pages; Gear and Apparel.This is the Apparel page.
If you're looking for Gear please click here.
If you're looking for Guide Pick please click here.
Otherwise, feel free to click on the section you're interested in below, or just start scrolling! 
Upper Body Layering
We recommend a minimum of 5 upper body layers, all of which can be used in conjunction with each other. Two of these should be insulating layers, one light and one medium, that fit well together. Today there are many different layering systems to choose from, including fleece, soft-shell, down and synthetic options. The following pages discuss each layer in more detail.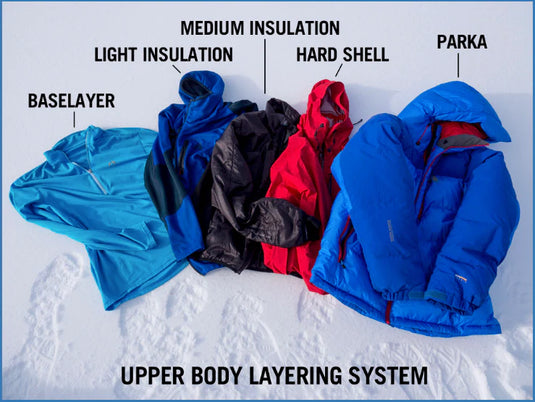 Layering System
The upper body layering system should consist of a baselayer, lightweight insulating layer, midweight insulating layer, hardshell, and expedition parka. Each piece works together as part of a larger system, and should allow for flexible movement and protection from the elements.
Guide to
Upper Baselayers
This is the first layer of your system. Long sleeves are mandatory on the summit climb and upper mountain to protect your skin against abrasions should you slip or need to self arrest. This should be a quick drying, fast wicking, non-cotton, and comfortable top.

We recommend a long-sleeve wool or synthetic top. Quarter zip or loose fitting sun hoody styles will allow for better temperature regulation. We recommend light colors, which best reflect the intense sun on hot days.
Advice in Motion
Choosing a Baselayer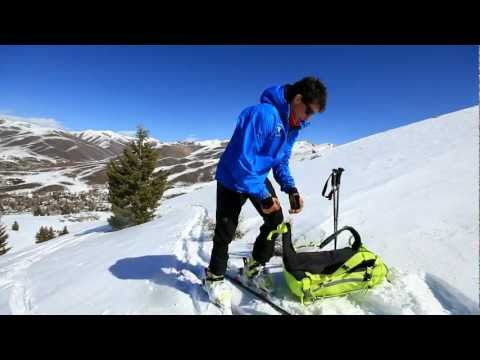 Guide to
Lightweight Insulation
This layer adds a bit of warmth to your system, while maintaining breathability during heavy exertion. Light weight with or without hood. Think of a Pacific Northwest running layer - lightweight enough to work out in and with just enough material to combat the cold.
Shop the best
Lightweight Insulation
Midweight Insulation
This heavier insulating layer adds increased warmth, and a bit of wind or weather protection. There are many suitable materials and styles including Down, Synthetic, Fleece, or Soft Shell jackets or sweaters. We recommend a layer with a bit of wind and water resistance, which can be worn over your lightweight layer. 

There are a bunch of viable midweight layers, ranging from Down to Fleece.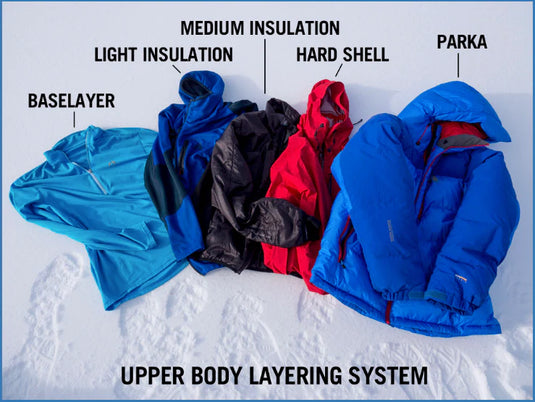 Guide to
Hardshell Jackets
Your hard shell coat should be made of a water proof, air permeable fabric. A thinner and lighter weight jacket is ample, and ideal for the climb. It should have an attached hood for protection from the elements. We recommend a non-insulated jacket for this layer. 
Advice in Motion
Choosing a Hardshell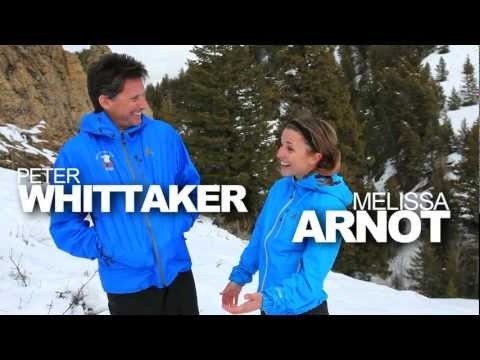 Guide to
Expedition Parkas
The parka is primarily worn during breaks to maintain your body temperature in the cold and wind of the climb. The parka may also be worn on the upper mountain as a piece of emergency backup gear. The parka must have an insulated hood to allow you to batten down the hatches and remain warm throughout any conditions, and should fit over all your other layers, so you may want to size up. 

These expedition-style heavy parkas should extend below the waist and must have an insulated hood. We recommend down rather than synthetic fill as down weigh less. The parka does not have to be waterproof, though that is a nice feature. Here are a few of our top Parkas. 
Shop the best
Expedition Parkas
Lower Body Layering
We recommend a system of 3 layers, all of which can be s used in conjunction with each other. Products which combine several layers into one garment, such as traditional ski pants, don't work well as they don't offer the versatility of a layering system.
Guide to
Lower Body Baselayer
Depending on the weather, you'll want to go with baselayer bottoms or non-cotton underwear. A lightweight pair of baselayer bottoms provides added insulation for cold climbs when worn in conjunction with the climbing pants. Lighter is often better, as it easy to overheat, and difficult to remove baselayer bottoms mid-climb.
Shop the best
Baselayer Bottoms
Soft-shell climbing pants offer a wide range of versatility. You can wear them in combination with the base layer on colder days, or alone on warmer days.
The soft shell material breathes well and allows the sweat and heat generated during the climb to dissipate, while still offering some resistance to light wind and precipitation. These climbing pants are our main workhorse layer, often worn alone to ascend the snowfield, and with a baselayer on the upper mountain for added warmth. A fleece pant serves the same function but is not as durable, breathable, or weather resistant and as a result are rarely used by guides. Depending on the model, soft shells come in varying thicknesses If you are climbing in the middle of the summer climbing season when temperatures are higher, or you tend to run warm, aim for a lighter weight version. If you are climbing in the early or late season or find yourself always being the person wearing an extra layer, use a pair made from a thicker material. 
Shop the best
Climbing Pants
 A waterproof pant with 3/4 side zippers (sometimes called 7/8 or full side zips) are required for facilitating quick clothing adjustments over boots and crampons.

Here are a few of our favorite Hardshell Pants. 
Shop the best
Climbing Pants
Thanks for reading
Still have questions?
Feel free to shoot us a message at info@whittakermountaineering.com, give us a call, or visit our store!