Black Diamond Raven Pro Ice Axe-2020
DESCRIPTION

A lightweight version of our classic Raven piolet, the Black Diamond Raven Pro Ice Axe is the ideal axe for ounce counters. Whether you're kicking steps up Aconcagua or wending through crevasse fields in the Alps, the Raven Pro's lightweight aluminum shaft and investment-cast, polished stainless steel head provide classic, all-around performance.
Lightweight aluminum shaft
Investment-cast, one-piece stainless steel head with an aggressive pick and large hole for a carabiner
Ergonomic head
CEN-B certified
Why is this a Guide Pick?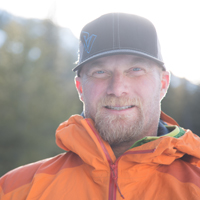 JJ Justman
Let's face it, weight matters in the mountains. Whether its a two day ascent up Mount Rainier or a two month expedition in the Himalaya, If I can keep things light, I can keep things more comfortable. The Black Diamond Raven Pro shaves critical weight by using a lightweight aluminum shaft. However, I also need an ice axe that is strong and would match up with performance for self-arrest. The stainless steel head gives me the performance, durability and strength I need in a general mountaineering ice axe.
Size Chart
General Sizing Guidelines
60 cm - 5' 4" and shorter
65 cm - 5' 4" - 5' 8" and shorter
70 cm - 5' 8" to roughly 6' 2"
75 cm - 6' 1" to 6' 6"

Depending on the steepness of the slopes you'll be climbing, you may want to adjust this (go shorter for front-pointing on steep ice, longer for upright glacier walking). But this is a good reference for the standard routes on peaks like Mt. Rainier or Denali.
Product Details
Lightweight aluminum shaft
Investment-cast, one-piece stainless steel head with an aggressive pick and large hole for a carabiner
Ergonomic head
CEN-B certified
Head : Stainless steel
Shaft : Aluminum
Weight Without Leash : [50 cm] 362 g (13 oz)
Raven Pro Ice Axe-2020